It seems to me, people have almost forgotten about the Olympics in Beijing. Newspapers, discussion boards and the television, all of them have ceased to report anything from China. In the last few months we have seen China trying very hard to maintain its good position, amidst tragic events that unfolded one by one. And hence, I'm curious how many people are really going to make it there.
In 2001, Beijing beats Toronto to bag the rights to host Olympic Games in 2008. This brought about mixed reactions throughout the world. Some said, it would a give boost to the repression of human rights, while some said, China may change its policy to show a good face to everyone.
A lot of things have happened since then. For instance, noted film maker Stephen Spielberg withdrew as the artistic adviser as, according to him, China wasn't putting the right amount of pressure on Sudan to curb its atrocities in the Darfur region in Africa. According to several reports, hundreds of thousands have died in the conflict in this region. China, being Sudan's major oil importer, has played an active role in politics of this region. As a matter of fact, Sudan imports arms and ammunition mostly from China.
China also seemed to have foiled terror attacks, against the Olympics, by separatist insurgents from the north. They were planning to crash a plane in Beijing. But not much details have been given by the government.
Just recently, the Tibetans started their protests against China's aggressive policies, hoping they would get adequate media attention. Initially, the Chinese government took it lightly, but when the protests turned violent, they were forced to deploy tanks and personnel in the Tibet Autonomous Region. Following this development, protests against China started in many countries, including European countries like France. Some were even considering boycotting the Olympics. And eventually, China was let down yet again.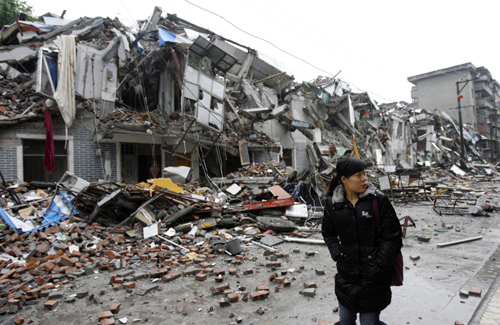 Later, it was nature's turn to unleash its fury. A major earthquake, measuring 7.9 on the Richter scale, struck Sichuan, in western China. The aftershocks were felt even in Beijing, which is about 800 miles away from Chengdu, where the earthquake took place. About seventy thousand people were killed, out of which many were feared dead. And what's more, the residents of this region were ethnic Tibetans. Although the Chinese government took serious efforts, including the deployment of over fifty thousand troops, it was all in vain. This, sort of, exposed China's inability to handle emergency crisis.
Following all these catastrophic events, the people of China remain undeterred in the preparations for the Olympics. In fact, it has brought about more vigour in them so that they can impress the world community. In fact. the Chinese media has always been elaborating that the government has always managed to keep the Chinese politics and Olympics separate.
The Chinese government has made some significant changes in order to keep the surroundings West-friendly. Its first step was to change the eerie names of most of the dishes. For example, the dish named 'Chicken without sexual life' was changed to 'Steamed pullet'. One of the other changes include the restrictions on construction activity in Beijing and other co-host cities in order to curb pollution. The rates of hotel accomodation in co-host cities like Hong Kong, Shengyao, Qinhuangdao, Shanghai and Tianjin have been lowered drastically in order to make it affordable for all. It also seems that the government has spent about 3 billion dollars to improve the basic infrastructure.
So, this is just the snippet on how China is coping up with time to make the Olympics a fun filled event in its real sense. But looking at the media, it seems, the people have almost forgotten about it. And so, I would like to ask you whether you will be attending the mother of all sporting events - the Olympic Games, or not......